Pool Contractor Fairfield County CT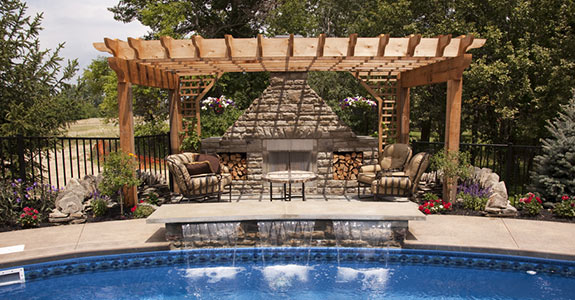 When you're ready to make that dream of owning your own pool into a reality, call J & H Pool and Patio. For over 60+years, we have been Connecticut's leader in pool construction. For the very best pool and spa for you and your family, call us today!
Pool Construction Fairfield County CT
When you're ready to dive into the joys of having a pool right in your own back yard, don't make the mistake of choosing just any pool contractor in Fairfield County, CT. Deciding to put in a pool is exciting, but it is also a big decision that involves careful planning. Design, property conditions, cost, safety and convenience are all things that need to be taken into consideration. With J & H Pool and Patio, our expertise, skills and unmatched craftsmanship are at your service. With over 60+ years experience in the art of masonry and pool construction, we are the most trusted pool contractor in Fairfield County, CT.
As a family-owned and operated business, we take pride in the quality of our craftsmanship. Our pools and spas bring together fun, functionality, beauty, and luxury right in your backyard. We'll take into consideration your personal vision and create a pool or spa that will be the highlight of your home and the talk of the neighborhood. When it comes to pool construction in Fairfield County, CT, the quality and beauty of our work is unmatched. Here are just a few more reasons why J & H Pool and Patio is the leader in pool design and construction:
All our pools and spas are designed and custom-built to meet your unique style and vision.
We have over 60+years experience and 60+years of happy customers to recommend us.
We provide expert planning not only for your pool or spa, but to make your whole yard into your own personal paradise.
We offer the best in quality and craftsmanship at competitive prices so you can make your dreams come true and still stay within budget.
We are proud members of the National Pool and Spa Institute.
Areas Served:
Fairfield County, CT
Norwalk, CT
Danbury, CT
Stamford, CT
New Haven, CT
Paterson, CT
Milford, CT
Waterbury, CT
Bridgepot, CT
Redding, CT
Litchfield County, CT
New Haven County, CT